projects
This section includes some of the music projects I have been involved in over the years.
Metropole Orchestra
The Metropole Orchestra is the world's largest professional jazz and pop orchestra renowned for its wide-ranging abilities.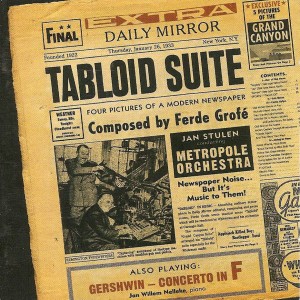 Metropole Orchestra – Tabloid Suite 
This double CD contains two complete suites composed by Ferde Grofe, and one composed by Gershwin and arranged by Grofe. Disc 1 features Grofe's rarely heard "Tabloid Suite: Four Pictures of a Modern Newspaper" (1932), and his more popular "Five Pictures of the Grand Canyon" (1931). Disc 2 features Gershwin's "Concerto in F," which was scored by Grofe for the Paul Whiteman Orchestra in 1928.
Each suite features Grofe's skillful use of jazz motifs in symphonic settings.  These works were performed from the original sheet music, so the music is played the way it was meant to be heard, in full length, and in full detail. The complete version of the "Grand  Canyon Suite" had not been performed as written for almost 70 years at the time of this recording. "The Tabloid Suite," in four movements, evokes the busy razzmatazz of a big-city newspaper, including a typewriter in the opening movement and police sirens in the final passages.
The Metropole Orchestra was conducted by Jan Stulen.
Basta 30-9119-2
www.bastamusic.com 
The Beau Hunks
The Beau Hunks are the foremost transcribers of eclectic jazz and classical music. The ensemble, which has been referred to as a "documentary orchestra", performs note-perfect renditions of music which is obscure and often commercially unavailable.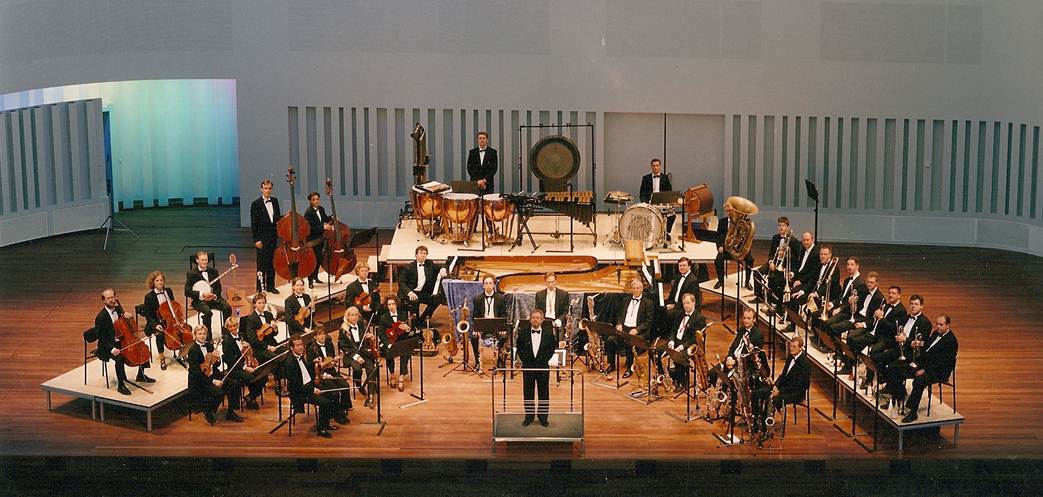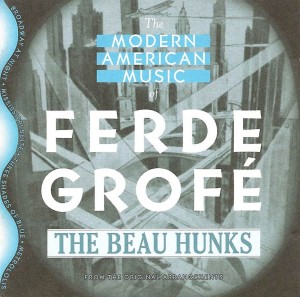 The Beau Hunks – Modern American Music of Ferde Grofe
 
 
Ferde Grofé's unique "symphonic jazz" pieces were written for Paul Whiteman's legendary dance band between 1924 and 1931.
Using the original scores and parts from the Library of Congress and the Whiteman Archives at Williams College, these works were reconstructed for the Beau Hunks. Using period instruments and overhead mikes, the 35-piece orchestra, conducted by Jan Stulen, recreate the sound of the original live performances.
Personnel: conductor – Jan Stulen; reeds – David Kweksilber (ss, as, ts, bars, cl), Frank Timpe (ss, as, ts, bars, cl), Michiel van Dijk (ss, as, cl, bcl), Robert Veen (sopranino sax, ss, F-mezzosoprano sx, C-melody sx, as, alto cl, cl, piccolo), Ronald Jansen Heijtmajer (as, bars, Eb-cl, cl), Wim Jonas (as, bars, Eb-cl, bassoon, contrabassoon), Willem Luijt (oboe); flute – Leendert de Jonge; trumpet – Jan Hollander, Marcel Rys, Menno Daams, Arjen Post; trombone – Martijn Sohier, André Pet, Andy Bruce, Koen Kaptijn; tuba – Tjeerd Oostendorp; banjo – Arno Hagenaars; piano – Han-Louis Meijer, Jan-Willem Nelleke (celeste); bass – Gert-Jan Blom, Kim Soepnel; percussion – Hans van der Meer, René Spierings; strings – Peter Brunt (vl), Ilona de Groot (vl), Bas Wiegers (vl), Eveline Trap (vl), Petra Griffioen (vl), Seya Teeuwen (vl), Finn Möricke (vl, vla), Margreet van der Heyden (vla), Marieke Wenink (vla), Eelco Beinema (cello), Tjakina Oosting (cello).
Basta 30-9083-2
www.bastamusic.com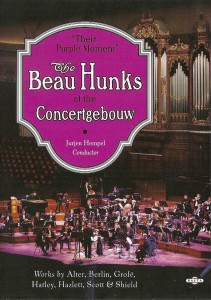 The Beau Hunks at the Concertgebouw 
DVD built around a live performance of The Beau Hunks at the Concertgebouw, Amsterdam, The Netherlands.
Basta 30-9104-2 (PAL, Europe)
Basta 30-9104-2N (NTSC, USA)